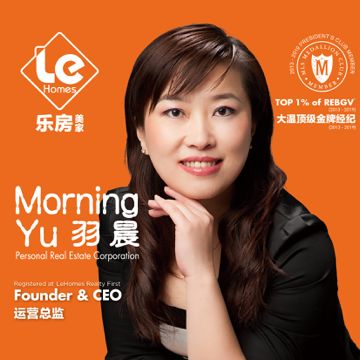 Morning Yu PREC*
LeHomes Realty First
About Morning Yu PREC*
Morning Yu is a real estate agent with LeHomes Real. Morning Yu has marketed homes in Shannon Lake, Richmond, Surrey, Whistler, West Vancouver, Vancouver, New Westminster, Maple Ridge, Sechelt, Burnaby, Port Coquitlam, Coquitlam areas, Whalley, Bolivar Heights, Guildford, Cedar Hills, Bridgeview, Fraser Heights in North Surrey, Cambie, S.W. Marine, Arbutus, South Cambie, MacKenzie Heights, Marpole, Point Grey, Kitsilano, Southlands, Yaletown, University VW in Vancouver West, Lackner, Riverdale RI, Quilchena RI, Seafair, Brighouse, Garden City, Woodwards, Steveston North, West Cambie, Saunders, McNair, Boyd Park, East Richmond, McLennan, Granville, Terra Nova, Ironwood, Broadmoor, Brighouse South, McLennan North, Steveston Village, South Arm, Steveston South in Richmond, Willoughby Heights in Langley, West Newton in Surrey, Collingwood VE, Victoria VE, Fraserview VE, South Vancouver, Downtown VE, Renfrew Heights in Vancouver East, Sunshine Hills Woods in N. Delta, King George Corridor, Pacific Douglas, Morgan Creek, Crescent Bch Ocean Pk. in South Surrey White Rock, English Bluff, Tsawwassen Central, Beach Grove, Cliff Drive, Tsawwassen North in Tsawwassen, Ladner Elementary in Ladner, Parkcrest, Sullivan Heights, Montecito, Brentwood Park, Simon Fraser Univer., Westridge BN, Central BN in Burnaby North, Central Abbotsford in Abbotsford, East Burnaby, Edmonds BE in Burnaby East, Downtown NW, Fraserview NW, GlenBrooke North in New Westminster, Whistler Village in Whistler, Cloverdale BC, Clayton in Cloverdale, Burnaby Hospital, Metrotown, Highgate, Deer Lake Place in Burnaby South, Burke Mountain, Coquitlam East, North Coquitlam, Central Coquitlam, Westwood Plateau, Scott Creek, Coquitlam West, Meadow Brook in Coquitlam, Dewdney Deroche in Mission, Cedardale in West Vancouver, Northwest Maple Ridge, Cottonwood MR, East Central in Maple Ridge, Salt Spring Island in Islands-Van. & Gulf, Brennan Center, Britannia Beach in Squamish, Central Meadows in Pitt Meadows, Pender Harbour Egmont in Sunshine Coast, Mary Hill, Central Pt Coquitlam, Riverwood, Citadel PQ in Port Coquitlam, Out of Town in Out of Town, Blueridge NV in North Vancouver, and Heritage Woods PM in Port Moody. Check out Morning Yu 's listings or office listings.
Morning Yu PREC*'s Listings
Loading...
LeHomes Realty First Listings
Loading..
Home Selling Tips with
Morning Yu PREC*