Lotus Yuen Prec*
http://www.Find-Home-Value.ca
Your BEST Interest is my FIRST Priority
About Lotus Yuen PREC*
Lotus Yuen is an Award wining real estate agent with RE/MAX Crest Realty. I will listen to your needs and help you achieve your Real Estate Goals. Your BEST Interest is my FIRST Priority. Call us for a free consultation. Lotus Yuen has marketed homes in Burnaby, Vancouver, Richmond, New Westminster, Coquitlam, Surrey, Delta. Check out Lotus Yuen 's listings or office listings.
Lotus Yuen PREC* Listings
Central Park BS, Burnaby South

2 Beds
2 Baths
949 Sqft
Condo

Norgate, North Vancouver

1 Beds
1 Baths
617 Sqft
Condo

East Burnaby, Burnaby East

5 Beds
4 Baths
2784 Sqft
House

Edmonds BE, Burnaby East

2 Beds
2 Baths
863 Sqft
Condo

Kitsilano, Vancouver West

2 Beds
2 Baths
1134 Sqft
Townhouse

Coquitlam West, Coquitlam

3 Beds
2 Baths
1302 Sqft
Townhouse
Specializations
City Expert
First Time Home Buying
Investments
Negotiation
Condos
Townhomes
Luxury Homes
Property Management
Development
Single Family Homes
Pre Sales
Testimonials
Lotus has helped me on purchasing a detached house in 2017 with reasonable pricing, I am happy with the purchase and enjoying life with the schools, environment and neighborhood. His professional skill and knowledge helped me to make right decision.

Tsang Ka Pui

Buyer and Seller

We know Lotus for a long time even before he became a realtor. He adopts 'customers first' policy and has been very helpful to us in both buy and sell of apartments. He helped us to get the best prices in all cases, to find any loopholes ...

Osacar Lo

Buyer and Seller

As a first time homebuyer, we've received wonderful service from Lotus. He has been extremely patient with us and has always answered all our questions at any time of day. We will definitely work with him again in the future...

Jacqueline Lam

Buyer

Lotus has been our realtor, providing our family with incredible advice and service for several years. With his professional knowledge, negotiation skills, patience and dedication, we were able to complete sales and purchases at the right time ...

Karin Poon

Buyer and Seller

We hoped to find good tenants for our rental property. Lotus and Patrick helped a lot in the whole progress including thorough with their screening process from suitable prospects, interviewing possible new renters, and reference checks.

Ken Lam

Buyer and Seller

Lotus Yuen is a excellent realtor! He helps our family to sell and buy a condo with a good price. He always answer our questions promptly and patiently. Lotus is professional, he provided a excellent services to my family...

Situ Charlotte

Buyer and Seller

Our experience with Lotus was simply outstanding. My husband and I were looking to downsize to a condo in Burnaby. Lotus worked with us on a very personal basis and helped us to understand what we really needed...

Carman Cheung

Buyer

Thank you for your support in our journey to purchase our first home. Truly appreciate all your support, knowledge and time with us. The purchase has been a little stressful but your guidance and prompt responses have helped to ease our nerves.

Sulfi Mohammed

Buyer

Lotus has been incredibly helpful and patient with my questions and ignorance as a first time home buyer. He has provided insightful suggestions to solve potential problems and has been patient dealing with the sellers. I'd draw a 6th star if I could

B Law

Buyer

As a first-time homebuyer, Lotus provided me with excellent service and professional suggestions throughout the buying process. He is a very patient and detail-oriented agent. When I have concerns about anything, he can always get back to me...

Eric Chang

Buyer

Lotus recently helped me purchase my first home. My experience with Lotus was positive at every step of the process. He was accommodating and always responded in a timely manner. Furthermore, he was knowledgeable, professional, and trustworthy.

Kevin Tam

Buyer
Wondering how much your home is worth?
RE/MAX Crest Realty Listings
Shaughnessy, Vancouver West

8 Beds
8 Baths
8895 Sqft
House

Kerrisdale, Vancouver West

6 Beds
6 Baths
4065 Sqft
House

Shaughnessy, Vancouver West

8 Beds
5 Baths
6021 Sqft
House

Shaughnessy, Vancouver West

5 Beds
4 Baths
6850 Sqft
House

East Richmond, Richmond

5 Beds
6 Baths
6380 Sqft
House

Yaletown, Vancouver West

3 Beds
4 Baths
3369 Sqft
Townhouse

Point Grey, Vancouver West

5 Beds
7 Baths
4337 Sqft
House

Shaughnessy, Vancouver West

5 Beds
5 Baths
5998 Sqft
House

British Properties, West Vancouver

5 Beds
6 Baths
5535 Sqft
House

Southlands, Vancouver West

5 Beds
7 Baths
4067 Sqft
House

Cambie, Vancouver West

3 Beds
2 Baths
1945 Sqft
House

Glenmore, West Vancouver

5 Beds
7 Baths
6745 Sqft
House

Shaughnessy, Vancouver West

6 Beds
7 Baths
6268 Sqft
House

Coal Harbour, Vancouver West

2 Beds
3 Baths
2321 Sqft
Condo

Yaletown, Vancouver West

4 Beds
4 Baths
2405 Sqft
Condo

Point Grey, Vancouver West

8 Beds
8 Baths
3552 Sqft
House

Brookswood Langley, Langley

5 Beds
4 Baths
5046 Sqft
House

British Properties, West Vancouver

5 Beds
6 Baths
6139 Sqft
House

South Granville, Vancouver West

5 Beds
3 Baths
3300 Sqft
House

Dundarave, West Vancouver

5 Beds
3 Baths
2626 Sqft
House

South Granville, Vancouver West

4 Beds
4 Baths
2300 Sqft
House
RE/MAX Crest Realty has #915 listings for sale in Sidney , PARKSVILLE , TOFINO , LADYSMITH , Maple Ridge , Burnaby , New Westminster , Vancouver , Richmond , South Surrey White Rock , North Surrey , West Vancouver , Langley , Port Coquitlam , North Vancouver , Squamish , Coquitlam , N. Delta , Port Moody , Bowen Island , White Rock , Surrey , Delta , Chilliwack , Sechelt , Abbotsford , Pitt Meadows , Anmore
Home Selling Tips from
Lotus Yuen PREC*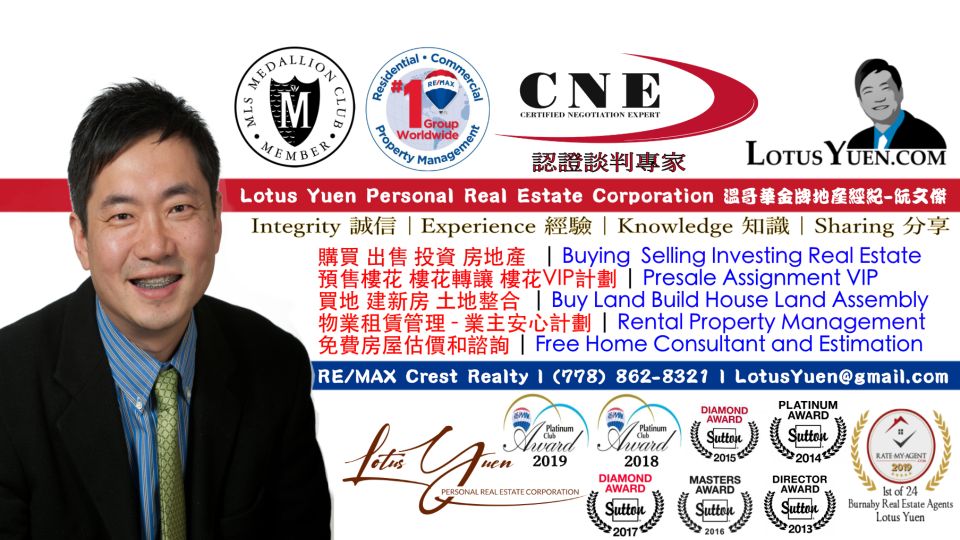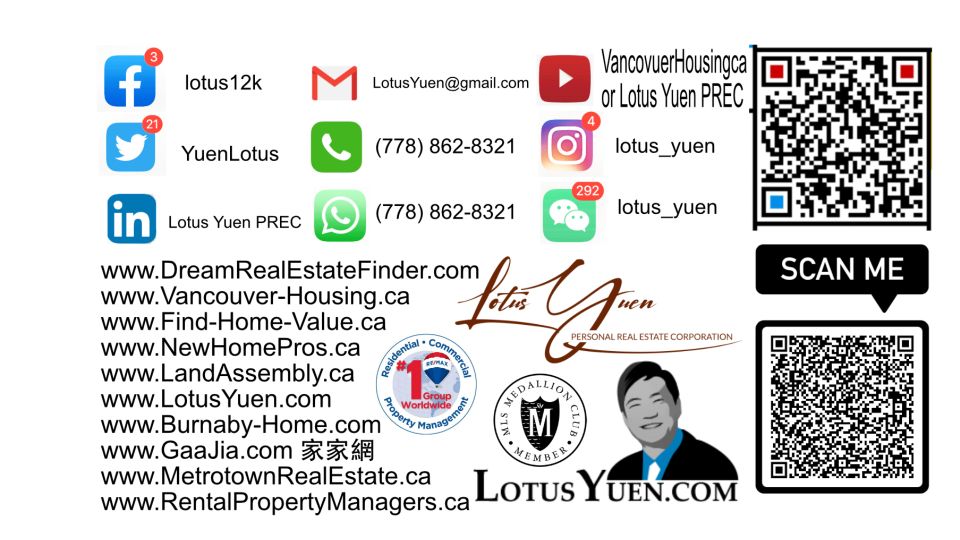 Lotus Yuen PREC*